What exactly are these phishing emails after is a question that will arise. The answer is simple and it is to snip user's personal details, bank information, account details or any other confidential information which is important for a user in day to day life. Further, these hackers who create phishing content want to extract user's sensitive details so it's possible for a link to install malware in order to steal user's information.
The issue is that these Phishing emails greatly resemble the original format of a legitimate organization which can confuse users including users who have much more experience. In order to avoid accidentally revealing personal and confidential information to a suspicious third party, it's best to look for the ambiguity of an email when it is received. Below mentioned factors are ways of recognizing a phishing email from a normal email.
Offering free stuff or a congratulatory message
This is a way of grabbing the user's attention with keywords such as "free", "congratulations", "hurry", "offer", "won". This type of content should be dealt carefully since the email would ask the user to submit information details such as bank details or other personal information and ultimately the user will become a victim of the internet or rather electronic mail.
Given below image is an example of a phishing email pretending to give money.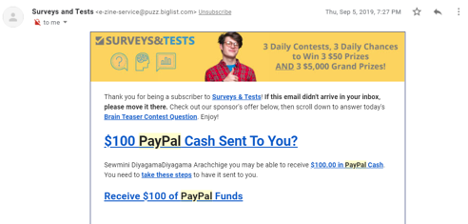 Click a link to confirm privacy information
This type of content will mostly resemble organizations a user deals very often such as banks, paypal etc… A link notifying that some information needs to be confirmed such as passwords or credit card, bank card details. This is one way of acquiring user's details illegally.
Sense of urgency in the email
The email will contain exclamation marks and bold letters and a requirement of doing a survey to win a gift such as a brand-new laptop or something expensive. This is a way of identifying a suspicious email. A known logo or brand will be shown for assurance and to reduce suspicion such as paypal similar to the image shown below.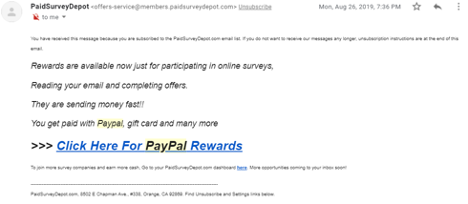 Spelling mistakes and errors in grammar
There will be number of grammar mistakes such as incoherent sentences as it is believed and according to statistics that non-English speaking countries are mostly involved in Phishing attacks. Therefore, the grammar will be off, words and sentences might seem out of context which is another way of quickly identifying a phishing email.
Above mentioned were few ways to identify suspicious emails and most common faults found in phishing emails. Users should always double check the domain name and do a quick google search or compare it with the usual emails the user interact with if the email seems to be suspicious.