Have you ever forgot your computer login password? What most people will do either take the computer to the IT service centre or do a fresh re-installation of windows. In that case, the first method will cost you service charge while the second method might cause you to lose all your data if you didn't have backup.
There is a simple hack to reset your forgotten Windows 10 password which is known as sticky keys method. And we will teach you how to use sticky keys to reset your password. And the only thing you need is a Windows 10 installation CD or USB.
You need to press SHIFT keys 5 times in a row. A window (sticky keys application) will pop out and ask you if you want to use sticky keys. You can use this feature even if you didn't log into the computer.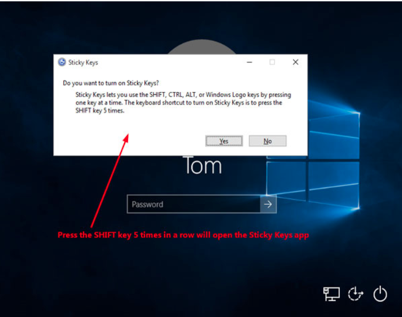 You need to replace sticky key application with Command Prompt. Once you are in the Command Prompt, you have the privilege to change the login password. However, you can't do this without admin access. To achieve this, you need to boot your computer using Windows 10 installation CD/USB. You might need to change the boot preference from BIOS. 
When your computer boot from the Windows 10 installation CD/USB, you will enter the following screen. Press SHIFT + F10 key combination to launch the Command Prompt