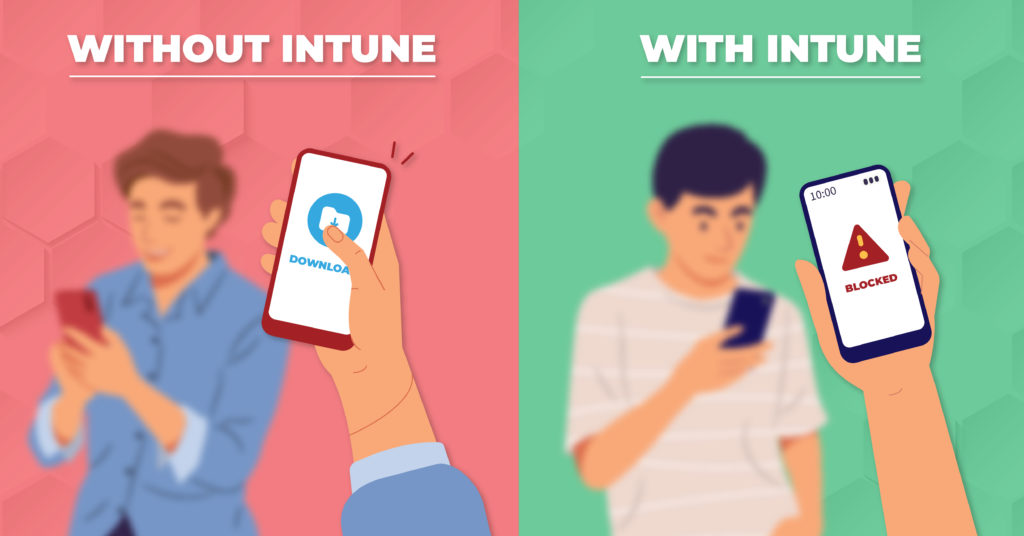 As a business owner, efficiency is key. But let's face it, you don't have time to dive deep into every new software tool. At Netcomp, we get it—modern IT is important but so are other things. That's why we've created non-technical guides for tools like Microsoft Intune. Our goal: to give you quick, plain language reads so you can make informed decisions on the fly. Today we're covering what Microsoft Intune is and how it can help you.
What Is Microsoft Intune?
Microsoft Intune is a cloud-based endpoint management solution. It sets up user access, decides who can access what, and keeps user devices up to date automatically. It empowers businesses to control user access to files and documents, as well as the devices used by the users. Intune is available with Microsoft 365, and although not as user-friendly as Word or PowerPoint, it's a valuable tool. Although it may seem overwhelming to set up and use, the investment in Intune is worth the benefits. Let's discuss working together if you need help moving forward.
Key Advantages of Microsoft Intune for Your Business.
Uncover the major advantages offered by Microsoft Intune for your business, explained in a manner accessible to all, regardless of their computer science background.
1. Streamline Your Employee Computer Setup with Intune
Equipping employees with new computers can be a hassle. It's not just plugging in cables, but also installing software like Office, Slack, Salesforce, and more. Doing this manually is time-consuming and not scalable, especially if you're hiring multiple employees. That's why businesses use automated methods like imaging or device provisioning.
Intune, a cloud-based solution, simplifies this process. With Intune, you can ship a computer to a new employee and they'll have everything they need once they log in. No manual installs required. Save time and make your remote-focused world easier with Intune.
2. Automates your IT policies and security settings
Say goodbye to IT headaches and cybersecurity worries with Intune's automation. Our tool allows you to set up and impose your business policies and security measures effortlessly, leaving no room for human error or mischief. No need to constantly monitor and react, or risk out-of-date safeguards. With Intune, you can manage it all remotely and seamlessly. And when new threats arise, a quick change in Intune pushes it to every PC instantly. Keep things running smoothly and securely with Intune.
3. Seamlessly integrates with the broader Microsoft 365 ecosystem (and other Microsoft services)
Looking into Intune? Chances are, your workforce is already using Windows PCs and accessing Microsoft 365. And here's the best part: with your current subscription, Intune could be free for you. Plus, since Intune is a Microsoft product, it integrates seamlessly with your other Microsoft services. This means more comprehensive security, analytics, deployment, and endpoint management. Why bother with multiple providers when you can streamline everything with Intune?
4. Collaborates effectively with mobile threat defense services
Is your company struggling with how to handle employees who want to access company resources from their personal devices? Don't worry, you're not alone. Fortunately, many companies offer mobile threat defense services, including Microsoft's Defender for Endpoint. With these services, you gain greater control over which mobile devices can access your company's IT resources, keeping them safer. Plus, if you pair Defender for Endpoint with Intune, you'll get a seamless, integrated system that simplifies endpoint management even further. Let Microsoft help you achieve a more secure, cohesive mobile strategy today.
5. Controls Access to Your IT Environment
It's important to limit access to your business's IT environment. This is known as "access control" and helps prevent unauthorized usage. Additionally, "conditional access" allows you to set boundaries for access, like blocking regions or certain hours.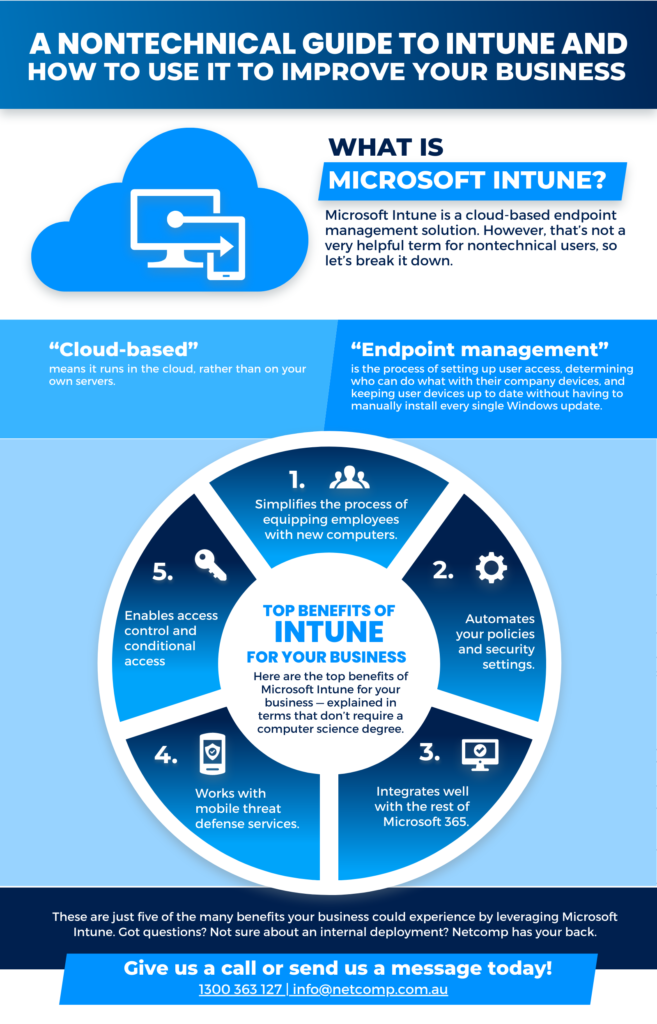 Introducing the simple and easy-to-use Microsoft Intune, which can help your business maintain effective access control and conditional access, regardless of size. Enjoy numerous benefits with Intune implementation.
If you have questions or need help deploying internally, Netcomp is here to assist you. Contact us today!