Of course, Brisbane is a thriving tech hub, housing exceptional IT support companies that cater to businesses' digital requirements. Therefore, in this article, we will explore the top five IT companies in Brisbane, providing a brief overview of each and highlighting the exceptional services they provide.
Delivering Reliable IT Support in Brisbane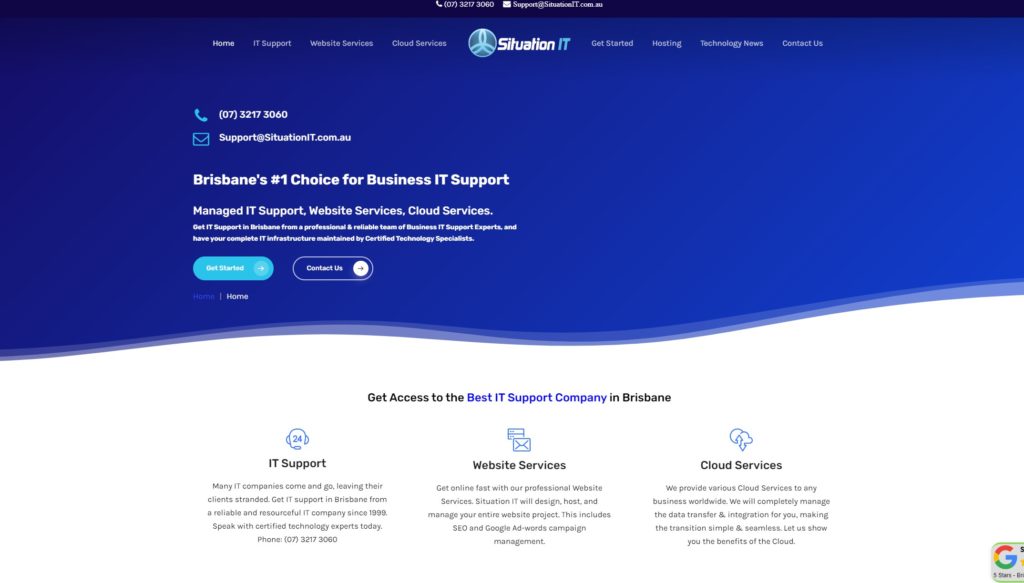 With over 10 years of experience, it is a leading IT company in Brisbane. Situation IT specialises in providing comprehensive IT solutions for businesses of all sizes. Moreover, they offer a wide array of services, including IT support, website services, and cloud services. Undoubtedly, with their customer-centric approach and industry expertise, they ensure seamless operations and optimal IT performance.
Services:
Cloud Hosting Solutions
Data Backup and Recovery
Virus and Spyware Removal
Internet and Email Solutions
Virtual Environment Solutions
Server, Desktop and Laptop Support
Website Design and Website Hosting
Managed IT Support and IT Support Plans
IT Infrastructure Design, Installation and Support
Fast and Reliable IT Support in Brisbane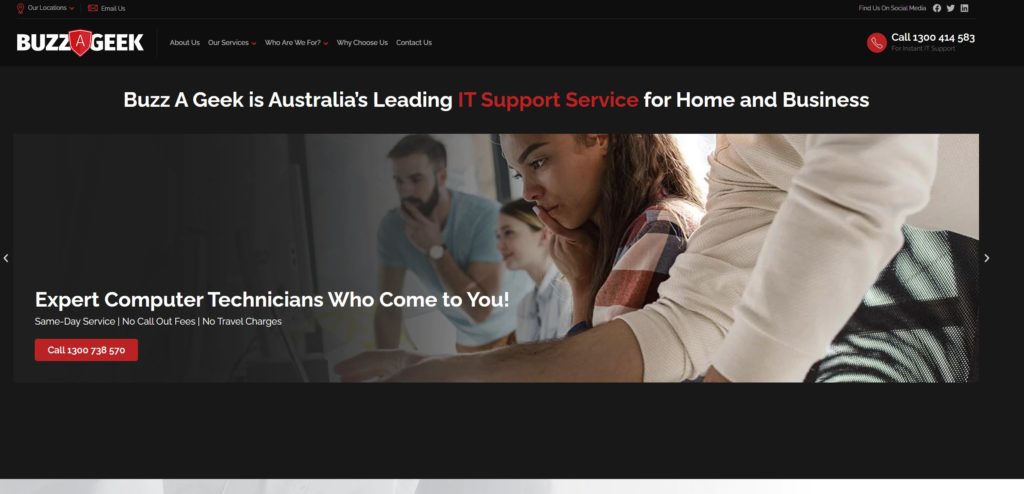 Buzz A Geek provides prompt and trustworthy IT support services in Brisbane. Their skilled technicians offer hardware and software repairs, network setup, virus removal, and data recovery solutions for both residential and commercial clients.
Services:
Computer repairs and troubleshooting for both hardware and software issues.
Network setup and configuration to ensure seamless connectivity.
Virus and malware removal to safeguard systems from cyber threats.
Data recovery and backup solutions for data protection.
IT security services, and more.
Trusted IT Support and Consulting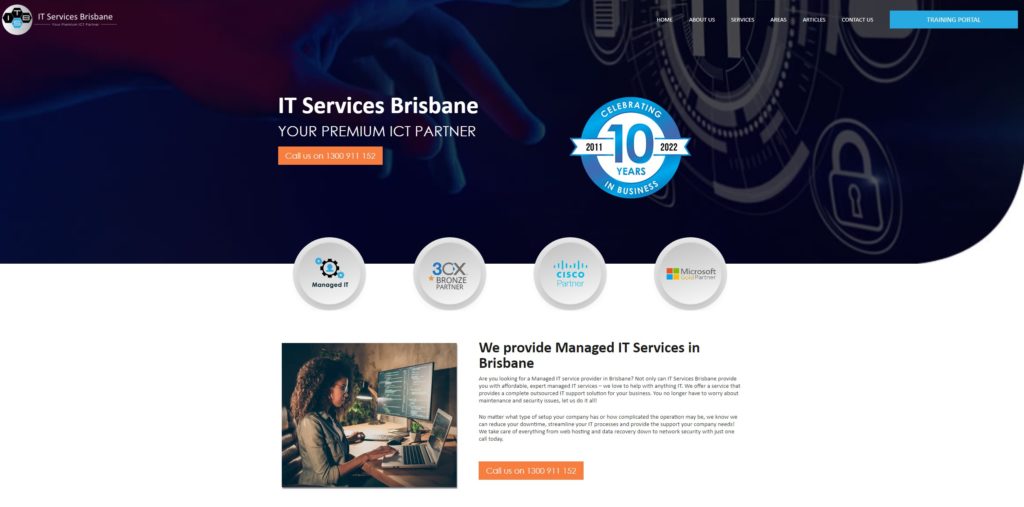 IT Services Brisbane is a trusted IT company that offers comprehensive IT support and consulting services to businesses in the region. Their team of experienced professionals assists clients in optimizing their IT infrastructure, implementing effective cybersecurity measures, and leveraging technology to drive business growth.
Services:
IT support services, including help desk support, system maintenance, and remote assistance.
Data recovery.
Cybersecurity solutions, such as network security, data encryption, and vulnerability assessments.
IT infrastructure design and implementation, including server setup and virtualization.
IT strategy and consulting services to align technology with business objectives.
Tailored IT Solutions for Brisbane Businesses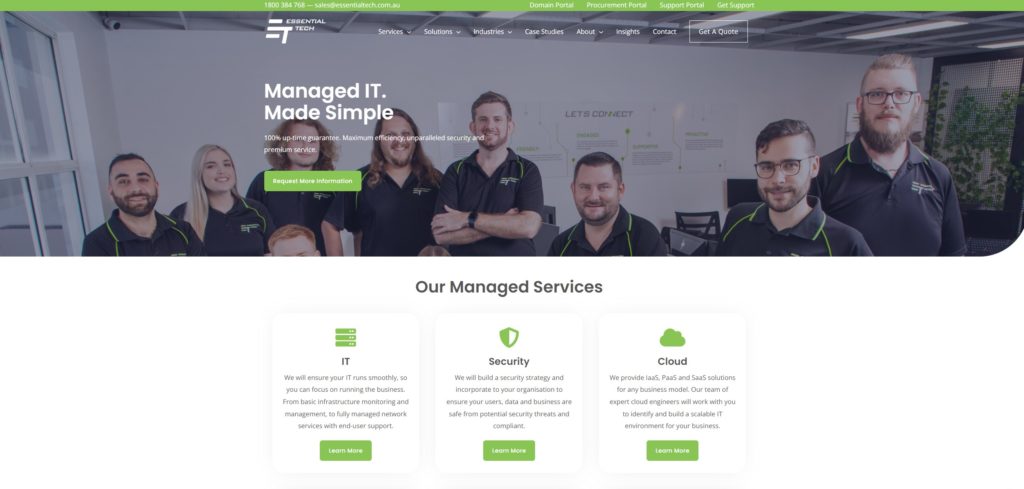 Essential Tech is a renowned IT company in Brisbane that focuses on providing customised IT solutions to businesses across various industries. For this purpose they offer a wide range of services, from managed IT services to cloud computing and data management solutions. So with their emphasis on personalized customer experiences, they help businesses enhance productivity and efficiency.
Services:
Managed IT services, including proactive monitoring, system maintenance, and IT help desk support.
Cloud computing solutions for secure data storage, collaboration, and remote accessibility.
Data management and backup services for reliable data protection and recovery.
IT project management and consulting for technology-driven business growth.
Experienced, Quality and Certified Solutions for all industries.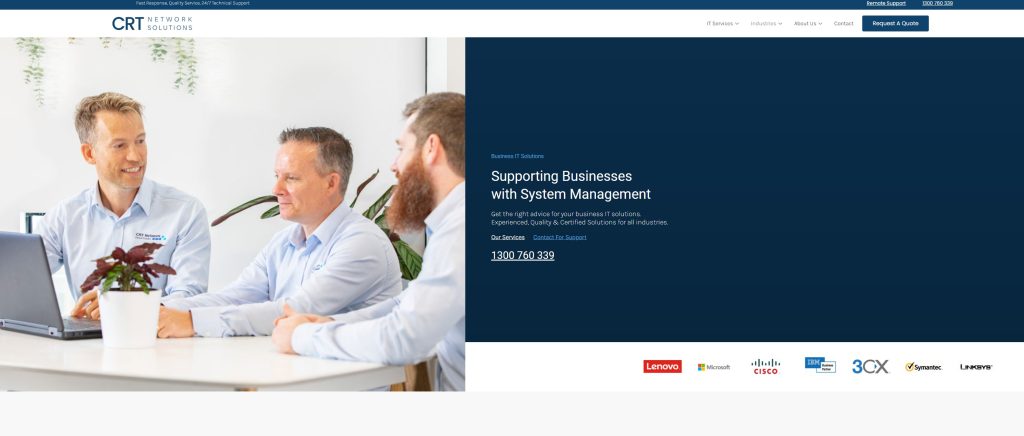 CRT Network Solutions, based in Brisbane and the Sunshine Coast, is an IT support company dedicated to providing great client service. Their suite of services, which includes managed IT, secure cloud computing, and data management solutions, helps businesses increase productivity. With over 15 years in the market, they have grown through exceptional service and innovation. So their knowledgeable personnel provides secure, fast, and dependable IT systems, demonstrating their dedication to quality in every engagement.
Services:
Cloud Services, including Microsoft 365 Setup, Email Hosting, Migration and Support.
Managed IT Services, including managed Security services.
IT Support in Brisbane area and Sunshine Coast.
IT Security Audit.
In general, for unmatched IT support in Brisbane, these top five companies stand out. Whether you need comprehensive assistance, cutting-edge cybersecurity, or strategic IT consulting, these experts provide unparalleled solutions to help your business thrive. Remember, when searching for "IT support Brisbane" or "Brisbane IT support" these companies are your ultimate digital partners.