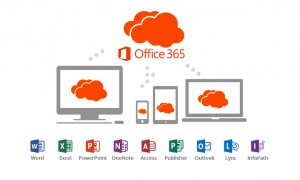 Office 365 is a group of subscriptions that contains productivity software such as Word, Excel and PowerPoint. It is a replacement of the traditional Microsoft Office licence like "Office 2007". Unlike the traditional Microsoft where you buy the licence upfront, you will need to pay an ongoing monthly or annual fee to use Office 365. So why would you even want to pay an ongoing fee for Office 365 instead of just getting the traditional Microsoft Office and use the software permanently? Well, Office 365 has a lot of advantages than the traditional Microsoft Office licence.
Up-to-date versions
When you have office 365, you can use the desktop, web and mobile version of the latest version of Office. You don't need to pay extra money to get the latest version of Office. On the other hand, if you use the traditional Microsoft Office 2007 and you want to upgrade it to Office 2017, you will need to pay for the licence again.
Cloud storage and data security
You can save you files online to keep it safe in case of accidents happens such as losing physical device. The 1TB of OneDrive online storage has more than enough space for you to store your files. Data security is especially important for business. Office 365 has Advanced Threat Analytics (ATA) which uses analytics and machine learning to detect and alert you to suspicious behaviour on you network. There is a mobile device management which can allow you to control Office on your employees' devices to protect company information. If an employee's device is lost or stolen, it can be remotely wiped to prevent data leakage.
Work anywhere at anytime
Another advantage of Office 365 is that you can work on a computer from anywhere as long as you have access to the internet, even if the computer does not have Office software (Word, Excel, PowerPoint) installed on it. This is because Office 365 is cloud-based, you can access to your email, files and Office software from any device.
There are a lot of other features of Office 365 which we won't mention in this article. If you're looking to expand your knowledge, our free E-book guide available for downloading here. The guide provides a comprehensive overview of Microsoft 365 applications, including Word, Excel, PowerPoint, Teams, and more. 
Perhaps the only disadvantage of Office 365 is that you have to pay continuously. If you stop paying, the Office software you installed will stop working.