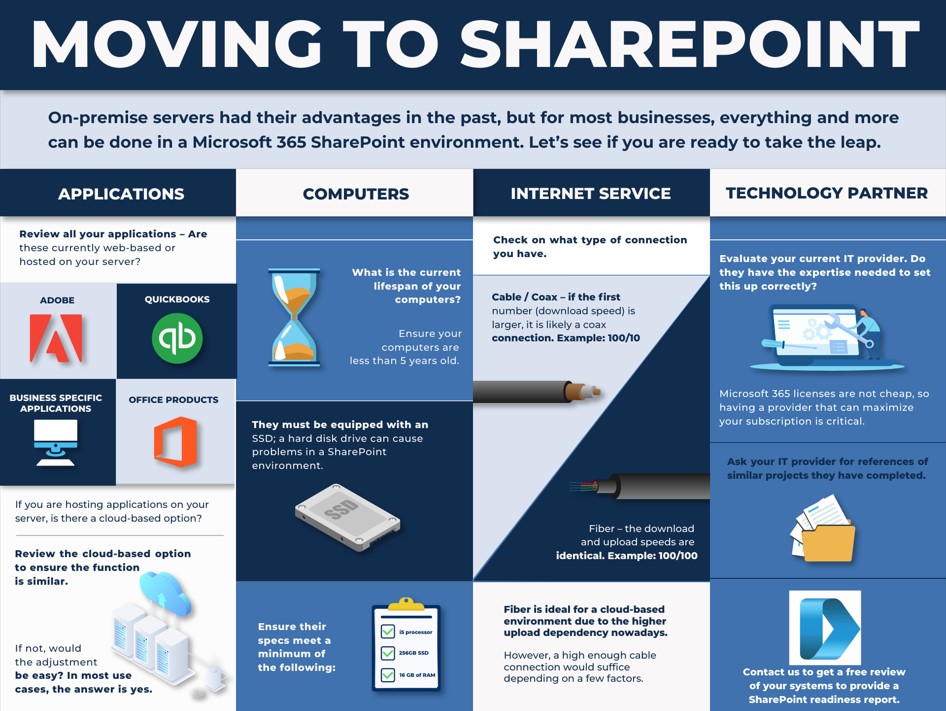 In today's business landscape, on-premise servers are becoming less popular. Instead, more companies are moving to Microsoft 365 SharePoint environments to take advantage of its numerous benefits. This guide will help you assess whether your company is ready for theSharePoint migration.
Here are some key factors to consider:
Applications:
Check whether your applications are web-based or hosted on your server, including Adobe, QuickBooks, Business Specific Applications, and Office products.
Determine if there are cloud-based options available for the applications that are currently hosted on your server.
Review the functionality of the cloud-based options and assess if it would be easy to make the adjustment.
Computers:
Ensure that your computers are less than 5 years old.
Equip your computers with an SSD instead of a hard disk drive, which can cause issues in a SharePoint environment.
Additionally, make sure that your computers meet the minimum specifications of an i5 processor, 256GB SSD, and 16GB of RAM.
Internet Service:
Check the type of connection you have, such as Cable/Coax or Fiber.
We highly recommend fiber for a cloud-based environment due to its high upload dependency. However, a high-speed cable connection can suffice, depending on your specific needs.
Microsoft 365 License: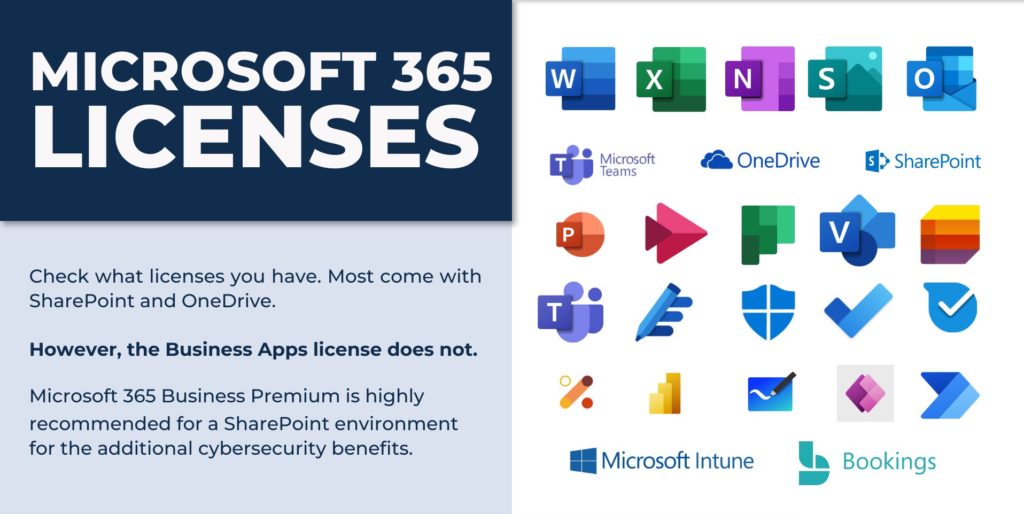 Verify what licenses you have and check if they include SharePoint and OneDrive.
Consider upgrading to Microsoft 365 Business Premium for additional cybersecurity benefits.
Files:
Review the amount of data you currently have on your servers.
Determine which data is live and what do you need to transfer during SharePoint migration. SharePoint comes with 1TB of storage by default, which you can expand if needed.
Printing:
Ensure that you have a solution for managing printing, as the server typically manage it. For example, Printix is a great option that can be implemented for you.
Technology Partner:
Evaluate your current IT provider and check if they have the expertise needed to set up SharePoint correctly.
Ask for references of similar projects your IT provider has completed.
Get a free review of your systems from a trusted technology partner to provide a SharePoint readiness report.
Other considerations:
Always use Multi-Factor Authentication with your Microsoft 365 license.
Consider how you currently scan documents. Direct scanning to a SharePoint folder or switching to scan-to-email may be a better solution.
Moreover, sync all computers to OneDrive for additional security and portability.
By following these guidelines, you can determine whether your company is ready to make the SharePoint migration and take advantage of its numerous benefits.