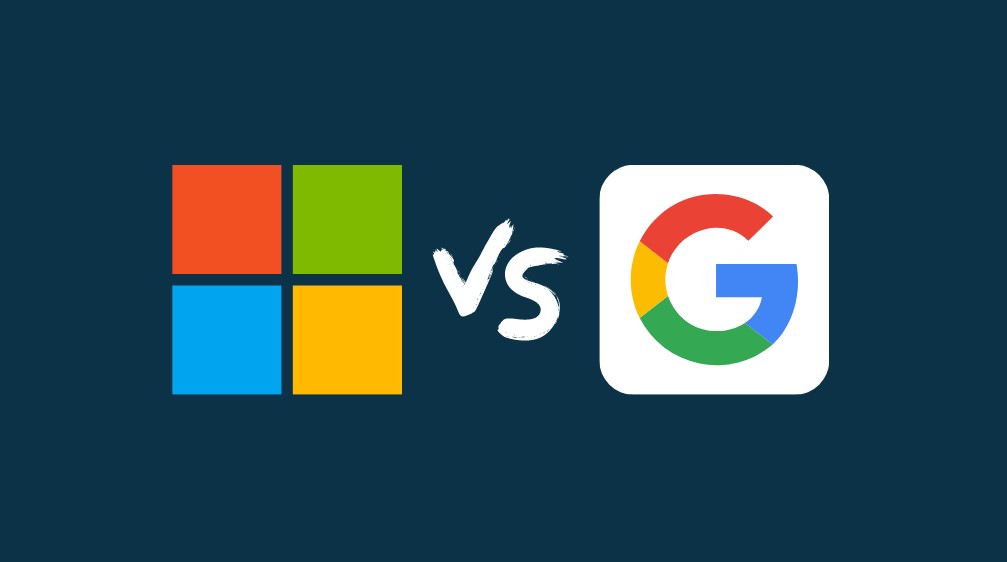 No matter your company's size or industry, a productivity and collaboration suite is essential to get work done. The evolution of cloud services has expanded this suite beyond the traditional Microsoft Office to a wider range of robust and feature-rich options.
Today, most businesses opt for either Microsoft 365 or Google Workspace, but which one is the right fit for your team? In this guide, we'll compare both platforms across six key categories, including cybersecurity, productivity, cloud storage, ease of use, administration, and pricing.
Our goal is to help you make an informed decision and set up your platform with ease. We offer governance and policy guidance, and educate your team on how to utilize the various tools within your chosen office suite.
But let's start with the basics and explore the differences between these two powerful ecosystems.
Microsoft 365 vs Google Workspace: What You Need to Know

Microsoft 365
the new and improved version of Office and Office 365 – is a bundle of tools that include all the popular Office apps, such as Word, Excel, PowerPoint, Outlook, OneDrive, and Exchange. Additionally, there are newer and robust tools like Teams (a collaborative tool similar to Slack), SharePoint, and a host of other tools that add value to specific organizations.
Google Workspace
previously known as G Suite, is another popular cloud-based tool that rivals Microsoft 365/Office. It includes similar products as Office apps such as Docs, Sheets, Slides, Keep, Drive. In addition, to compete with Teams and SharePoint, Google has Meet and Sites.
Both Microsoft 365 and Google Workspace have similar features, but they also differ in usage and functionality. Google Workspace has light-weight and streamlined apps, whereas Microsoft 365 provides deeper functionality and varied formatting, but with a busier interface.
One significant difference between the two is that Google Workspace is wholly cloud-based, and there are no desktop apps for Docs, Sheets, or Slides – everything lives in the cloud. On the other hand, Microsoft 365 has web-based versions of all its significant tools and has also invested heavily in building out a reliable and mature cloud-based experience, with conditional access policies, folder sync, SharePoint share permissions, MFA, and the ability to work on any device.
So, which one to choose? If you operate wholly in the cloud, Google Workspace may be the right option. For those who require stronger formatting and functionality that can work both in the cloud and locally, Microsoft 365 may be a better choice.
Cybersecurity and Support Differences between Microsoft 365 and Google Workspace

When it comes to basic cybersecurity, both Microsoft 365 and Google Workspace have got your back. Both industry titans offer enterprise-grade encryption, data loss prevention, spam and malware prevention tools, and 99.9% uptime guarantees. They also have their version of cloud security and two-factor authentication (2FA).
However, there are some differences you should know about:
Microsoft 365
Microsoft 365 provides 24/7 support for all plans and offers stronger support for multi-factor authentication. Plus, while all 365 accounts include standard cloud security, Microsoft's more advanced security package (Microsoft Defender for Business, Advanced security, and Cyberthreat protection) is only available with the pricier Microsoft 365 Business Premium tier.
Google Workspace
Similarly, Google Workspace takes a tiered approach to security features. Business Starter and Business Standard offer standard security and management controls, while Business Plus provides enhanced security such as Vault and advanced endpoint management.
However, Google's support is weaker than Microsoft's—all account types come with standard support, which isn't available 24/7. Customers must pay extra to upgrade to enhanced support.
Enhancing Productivity and Collaboration: Microsoft 365 vs Google Workspace

Both Microsoft 365 and Google Workspace offer a wide range of productivity and collaboration features. However, while there are many similarities between the two, there are also some differences to consider.
Live co-authoring and editing of documents is available on both platforms, but Google's version is simpler and more stable. Microsoft's integration with Windows, OneDrive, and network infrastructure allows for a more seamless experience, provided that your environment is properly configured.
Microsoft 365
One of Microsoft 365's strengths is its app availability. It offers desktop, mobile, and web apps for its main productivity and collaboration tools, with most less popular apps available on whichever devices they make sense. Integration between apps is tight, especially with the flagship Microsoft Teams app, which offers a variety of communication and collaboration tools.
Google Workspace
Google Workspace's apps run in your browser or dedicated mobile app, making them lighter weight and highly streamlined. However, running multiple apps in browser tabs can be less convenient than having them all open concurrently on your desktop. Google's communication tools, including Meet, are adequate but don't offer the same level of capabilities as Microsoft Teams. The Gmail interface may be familiar to users, but some business users find it lacking for their needs.
When choosing between Microsoft 365 and Google Workspace, consider which platform's strengths best align with your needs for productivity and collaboration.
Cloud Storage
Both Microsoft 365 and Google Workspace offer cloud storage for every user, but there are some differences between their plans.
Microsoft 365
All business plans come with 1 TB of OneDrive storage per user. Plus, except for the Apps for Business plan, all plans include file syncing across devices, secure sharing and permission-based email, and access or guest links for external recipients.
Google Workspace
Google offers three tiers of cloud storage, with storage caps of 30 GB, 2 TB, and 5 TB per user. The Starter plan omits shared drives for your team and target audience sharing, two features only available in the more expensive plans.
While Microsoft's cloud storage and sharing are more nuanced and offer more options, Google's solution is also capable for most businesses. Regardless of your choice, both platforms offer cloud redundancy, ensuring that your files are constantly synced. This means that even if the primary cloud server the files live on goes down, redundancy means you retain access.
User-friendlines

When it comes to ease of use, both Microsoft 365 and Google Workspace have their strengths and weaknesses.
Microsoft 365
With its incumbent status and familiarity to office workers worldwide, Microsoft 365 has a slight advantage for the completely uninitiated. However, its fully featured apps can lead to a higher learning curve compared to Google's equivalents.
While Microsoft's collaborative tools are powerful, they lack maturity and are more complicated when dealing with network-based documents. On the other hand, Google's collaboration features are user-friendly and exceptionally stable.
Businesses that prefer traditional file structures should opt for Microsoft 365 as it offers clear file organization that makes sense to users.
Google Workspace
Google's tools are lightweight, streamlined, and easy to use, making it an excellent option for those unfamiliar with office software. However, it may be more challenging for those who are accustomed to Microsoft's products to adapt to Workspace's functions.
Google's collaborative features outshine Microsoft's in usability and stability. Unfortunately, its file organization is more challenging to grasp, making it a less user-friendly option for the average user.
Ultimately, choosing between Microsoft 365 and Google Workspace will depend on your needs and preferences. If you work in the way Google expects you to, it offers excellent ease of use. However, power users and those who need specific functions may find themselves frustrated with Google's offerings.
Divergences in Administration
Choosing the right suite of tools is essential for giving your teams the ability to succeed in their work. However, businesses also need an appropriate level of administrative control. Here's how Microsoft 365 and Google Workspace compare in this area:
Microsoft 365
Microsoft 365 is built on the legacy of building software for businesses. Organizations familiar with provisioning and endpoint managing Windows computers will find much of the same support with Microsoft 365. Admins can set password policies, configure file access control, gather feedback, and much more. Business Premium customers can enjoy even more advanced administrative abilities.
Mature businesses with complex office environments will benefit from these robust administrative controls, many of which don't exist within Google Workspace. They can remotely wipe lost or stolen devices, set limits on the transfer of company information, and enjoy automatic app deployment through mobile device management (MDM), policy management, and Information Rights Management.
Google Workspace
Google Workspace is true to form, offering a streamlined experience that doesn't fuss with much in terms of administration. Since Google hardly installs apps on desktops or laptops, their approach lacks the granularity of Microsoft's admin controls.
You can set up file sharing permissions on a team basis, customize employee experiences by adding your business logo, provide premade templates, and turn specific apps off. However, this isn't much compared to what Microsoft 365 admins enjoy.
Cost Comparison

Microsoft 365
No need to worry about complicated pricing plans with Microsoft 365. They've streamlined their pricing structure to offer just four simple plans on an annual subscription basis. Here's what you can expect:
– Microsoft 365 Business Basic: $6 per user per month
– Microsoft 365 Apps for Business: $8.25 per user per month
– Microsoft 365 Business Standard: $12.50 per user per month
– Microsoft 365 Business Premium: $22.50 per user per month
While the first two plans might be too basic for most businesses, the Business Standard and Business Premium options offer advanced threat protection and access control. Need help deciding? Let us walk you through the decision-making process!
Google Workspace
Google Workspace simplifies pricing even further with just three plans to choose from:
– Business Starter: $6 per user per month
– Business Standard: $12 per user per month
– Business Plus: $18 per user per month
All Google Workspace plans come with custom emails and domains, along with access to all the Workspace apps. With differences in cloud storage per user, security and management controls, and quality of voice and video conferencing, your decision might come down to these factors.
While Google's Business Starter plan might be a bargain, Microsoft's basic plan offers more at the same price point. And at the higher price tiers, Microsoft's platform offers more features and cloud storage.
Our Recommendation
Looking for a top-notch productivity and collaboration suite? Look no further than Microsoft 365!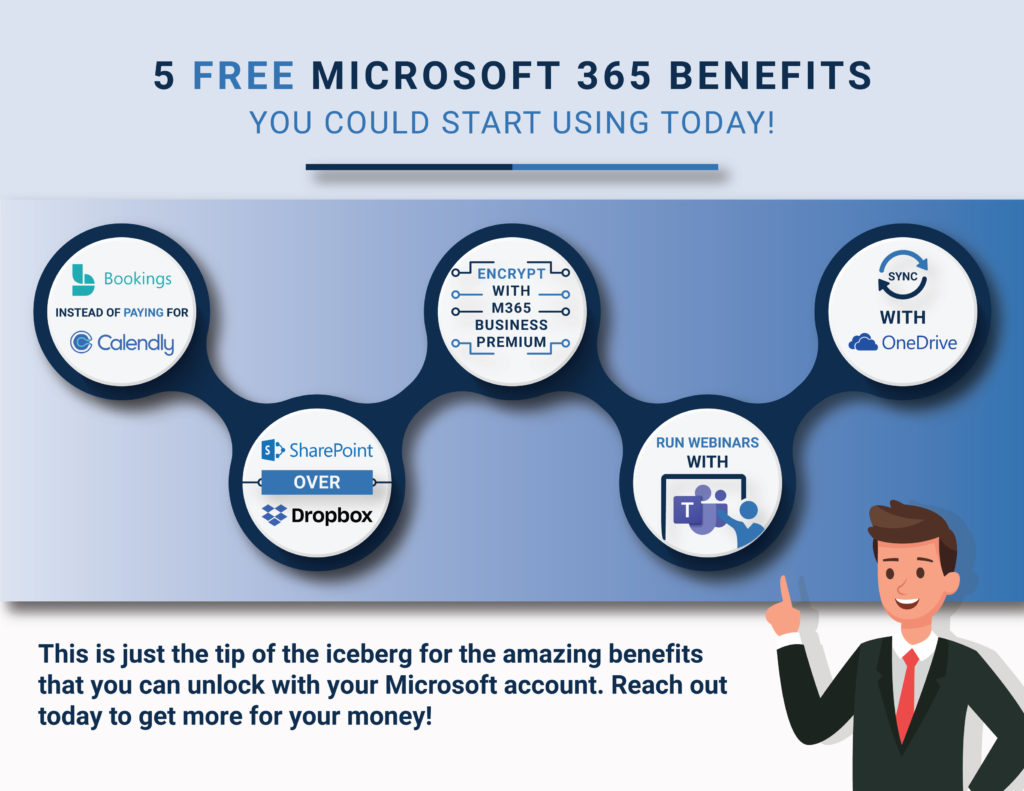 Our team of experts highly recommends either the Business Premium or Business Standard plan. In comparison to Google Workspace, Microsoft 365 excels in practically every category. Even in areas where Google has a slight advantage, Microsoft remains a strong contender. And with a top-tier managed IT provider guiding you, any obstacles you may encounter are no match. If you have any questions about which suite is right for you or need IT assistance, reach out to us today and let's get started!