If you're a business looking for a new IT guy or thinking about switching the current one, we bet you've had your fair share of IT price-hunting adventures. You're not alone! Despite our digital age, finding solid information on managed IT services prices Brisbane in Brisbane and other cities in Australia as well, can be a nightmare. Fear not – we're here to help.
Through in-depth of online searching, we've got a solid handle on how MSP pricing works in Brisbane, and we're excited to share our findings with you! In this blog post, prepare for amusing tales of our research adventures and a breakdown of MSP pricing models in plain English.
We performed a Google search on "managed IT services prices Brisbane" and, drumroll please, only one result on the first page actually gave us pricing! All the other companies just wanted you to contact them for a quote. Come on, guys, throw us a bone!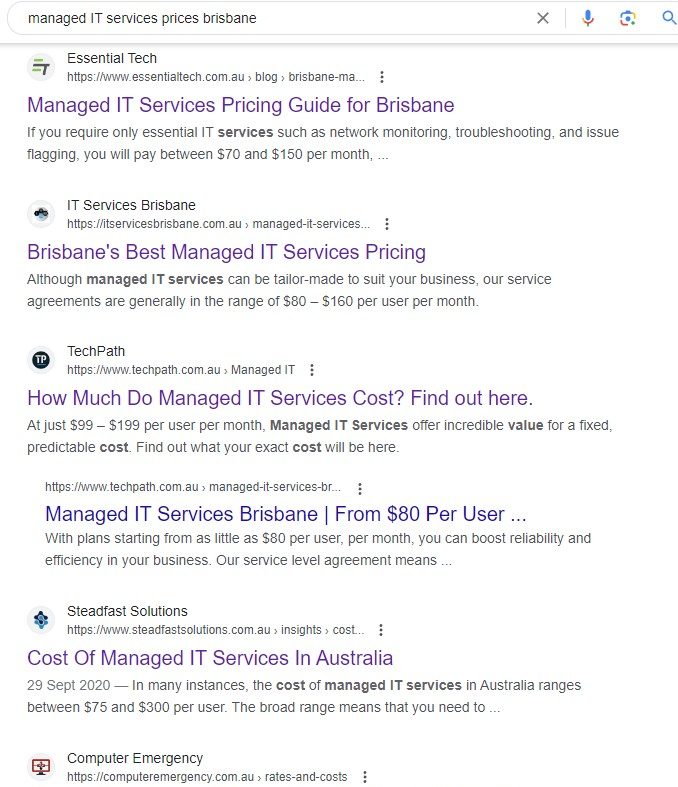 We'll explain the different MSP pricing models in a humorous and easy-to-understand tone. Plus, since we're based in Brisbane, we'll use local IT firms as examples (although pricing may vary depending on your location). So, sit back, relax, and let us take the stress out of MSP pricing.
There are 4 main MSP pricing models:
1. Break-fix model or Hourly rates
This model still remains the cheapest one, but not very effective, and leaves you vulnerable to problems down the line. Also your computers usually don't get managed and as a result the business could be down for days.
It's like calling a plumber when $@#& overflows – you only call the IT Support when things go bad. And just like plumbing, this model is cheap and nasty – you might save a buck in the short term, but it'll cost you an arm and a leg later. As we mentioned, it's cheap, but not effective.
Average cost: $120-$220/hour. Sometimes you could meet packages with prepaid hours, like the offer of Boost IT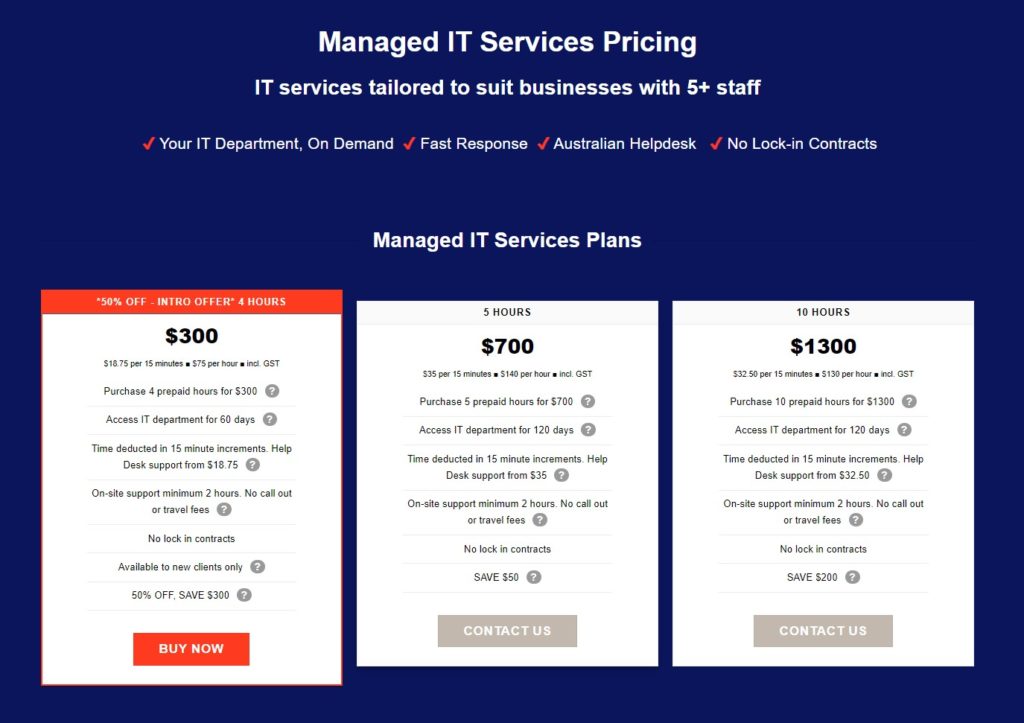 2. Range and Tiers (From-To model).
The prices in this model vary depending on the business size and business complexity.
It's a tricky model, as you only get the pricing after revealing specific information about your business like business size and the industry (think of large law firms here $$$).
This one's a bit like an old dating app, where you only get to see the price after you've shared all your details. Sneaky, huh? And just like that dating app, you could end up paying a premium just because you're successful and good-looking.
Average cost: varies by business size & complexity.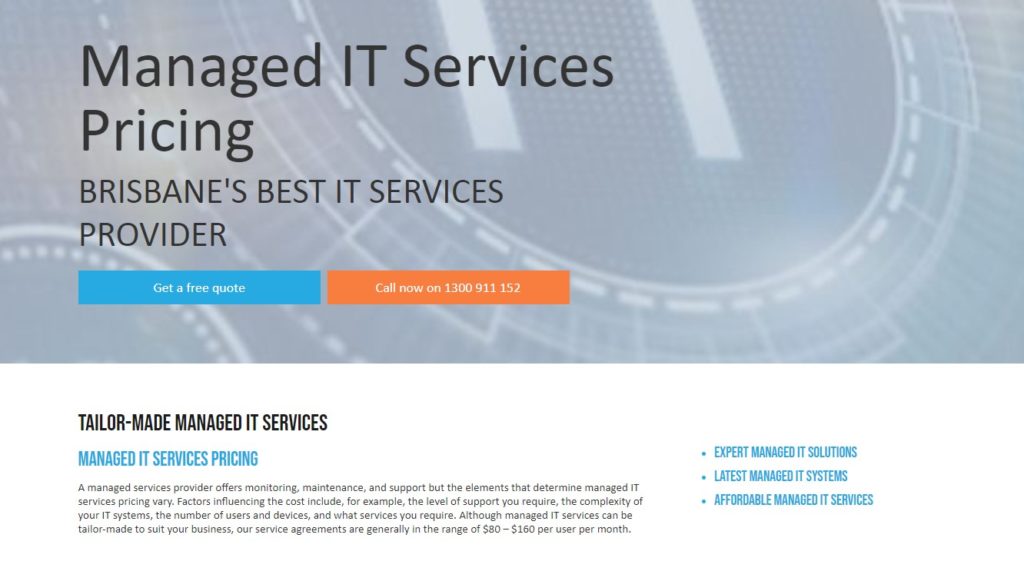 3. Fixed-fee plans.
This is usually a win-win approach. You get an unlimited support, and it's in your IT provider's interested to keep things running smoothly. Just watch out for any extra costs like call outs and after hours support.
Average cost: $150-220 per user/device per month.
It's like an all-you-can-eat buffet – you pay a fixed fee every month and get an unlimited IT support. Sounds great, right? Just be sure to read the fine print – sometimes there are hidden charges like extra services or add-ons that'll dig into your pocket. Below are offer from MSP BLUESHIFT as an example of fixed-fee model.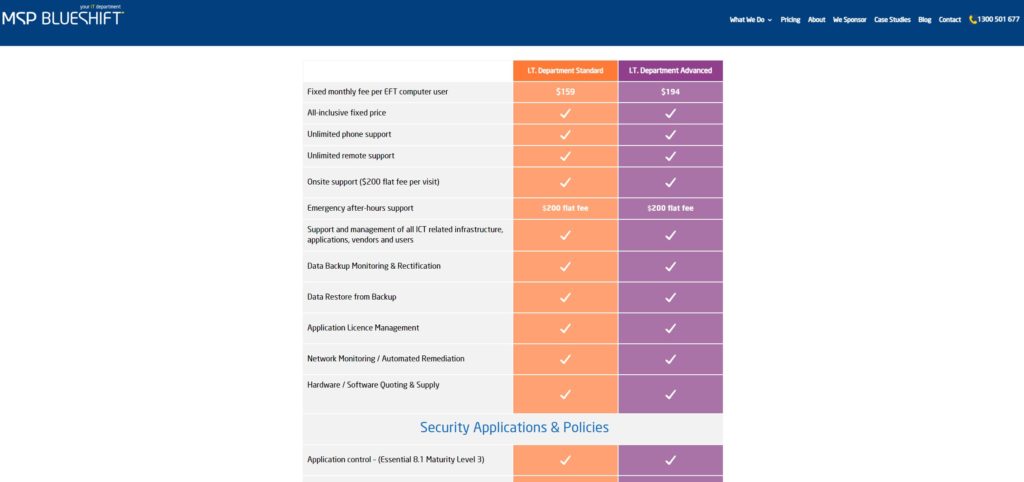 4. Hybrid model.
This usually combines a Fixed-fee plan with a "break-fix" model. If someone in your team is tech-savvy and they can tackle simple IT issues on their own, then you'll only pay a fixed fee to oversee your computers. But when you need the extra help, break-fix has got you covered.
Average cost: $50-180 per user per month + $100-200/hour break fix hourly rates.
Below is the example of the Computer Emergency hybrid model: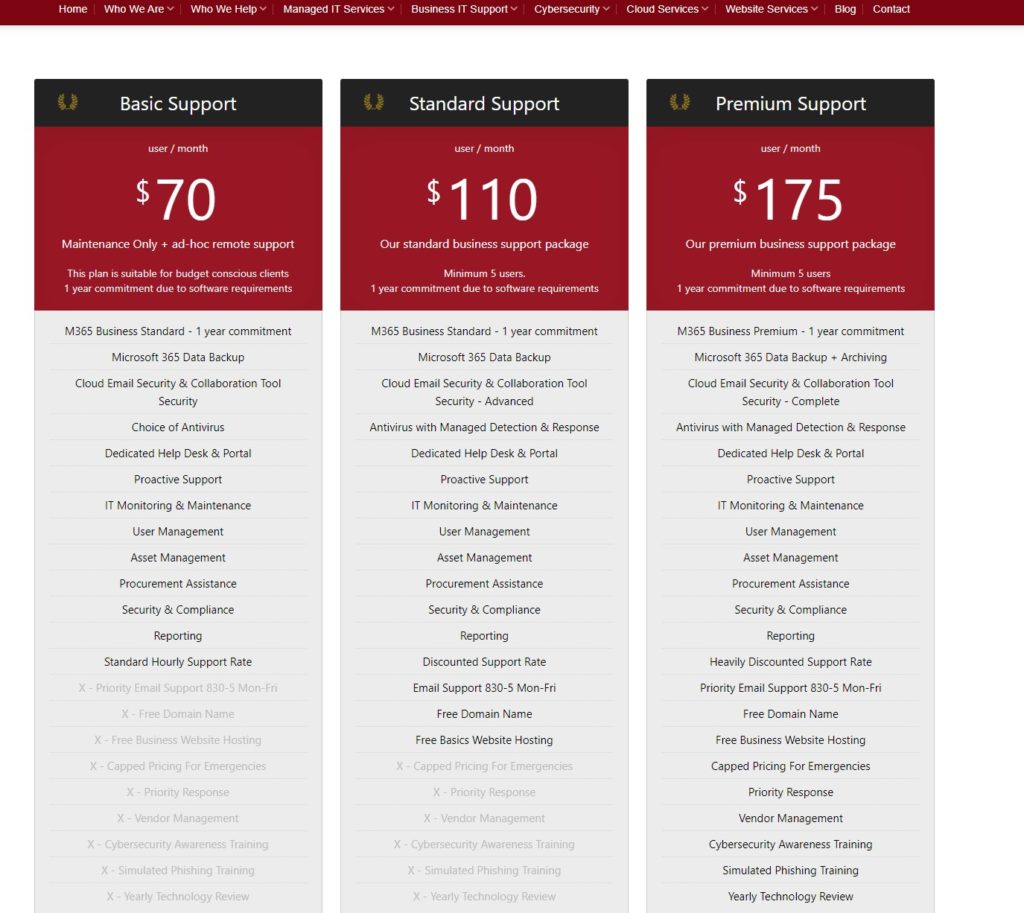 How we structure managed IT services prices here at Netcomp.
At NetComp, we keep things fairly simple. We offer Fixed and Hybrid plans for your business needs, with pricing that is transparent and straightforward. You won't find any hidden fees here – all of our prices are clearly listed on our website.
Now, let's cover what is IT Support. We have a simple rule – IT Support is always under a fixed price. However, ADDS/MOVES/CHANGES to your existing system and infrastructure, may come at extra cost. Don't worry, we won't break the bank. Our hourly rates are very modest at just $176/hour inc GST.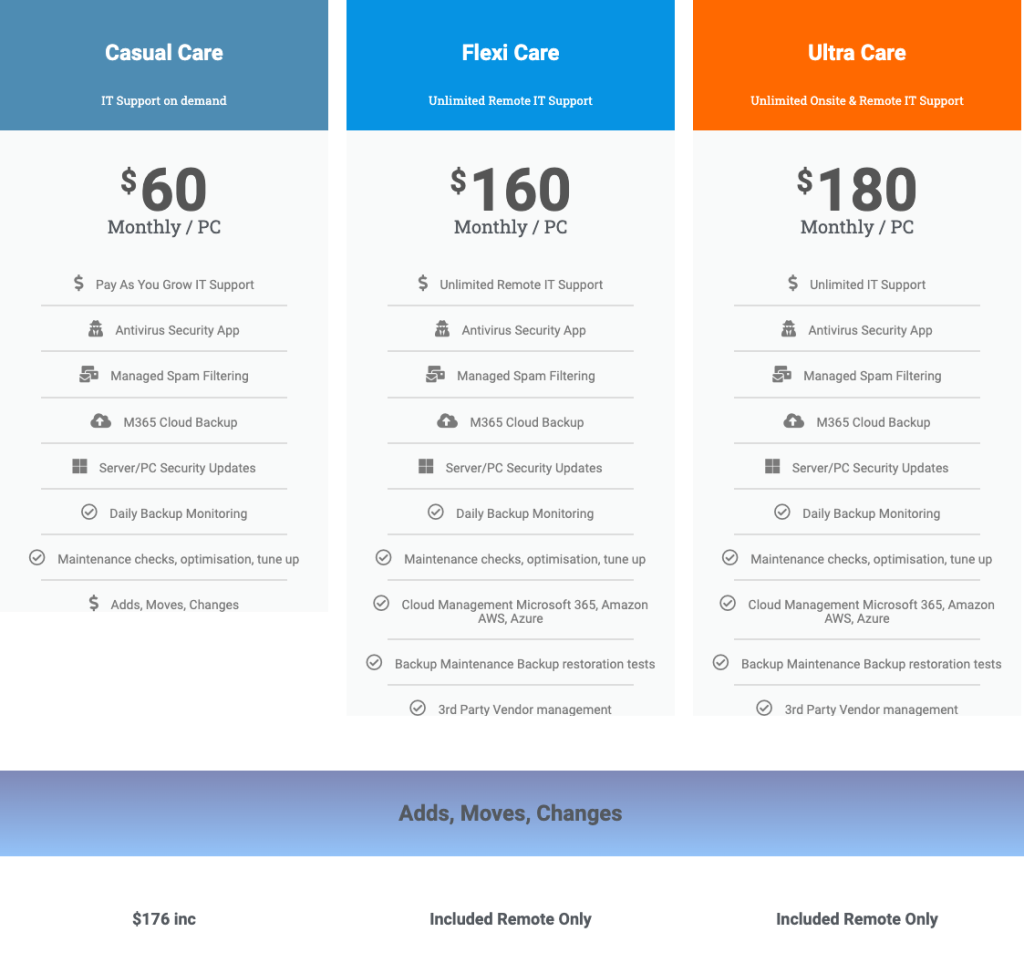 What kind of changes are we talking about here? Things like relocating a desktop system like a PC or a phone, Adding a new peripheral like a printer or a scanner. Making Changes to an employee account on the network, or Adding/Removing an employee PC profiles. Adding/Removing software or hardware to/from the existing desktop system.
We understand that technology can be confusing, but don't worry, we're here to help! We keep IT simple, so you can focus on your business. So don't let MSP pricing models stress you out – just give us a call and we'll take care of everything.
After our tiresome price-hunting adventure, you should have a good foundational understanding of managed IT services prices in Brisbane. Of course, the pricing will still vary depending on the provider and your business's needs.  However, what everyone should take away from this post is that managed IT services prices should always stay simple and transparent. With this knowledge, you can go out confidently and get the best deal with an MSP service provider that fits within your budget and business needs!